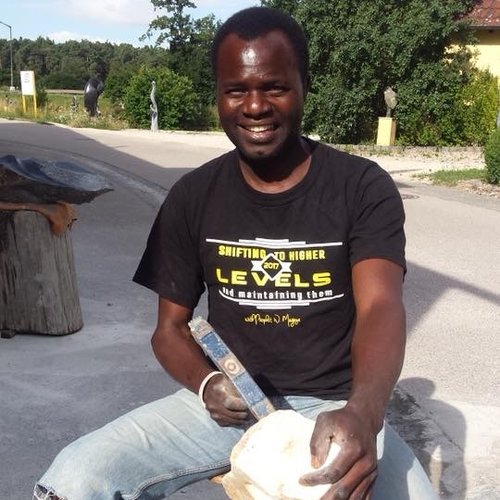 Artist Bio
Collen Nyanhongo's hails from Zimbabwe, which means "large house of stone." He comes from a family of Zimbabwe Artists, and learned to sculpt stones from his father, Claude Nyanhongo, who helped create the Zimbabwe Sculpture Movement in the 1950's and 60's, the most prominent art form to emerge from Africa in the 20th century.
Forging his own vision, Collen Nyanhongo transforms traditional figures into metaphorical abstractions. Transcending his past, he's establishes himself as a worldly Artist whose work has been honored in Zimbabwe, France, the Netherlands, Denmark, Australia, Holland, England, Switzerland, Germany, South Africa, and the United States.
Collen sculpts in all sizes, from a 15-ton marble public art project in Fort Collins, Colorado to smaller pieces that demand to be held and caressed. He prefers working with hard stones like Springstone, Serpentine, and Lepidolite, and ships them in from Zimbabwe quarries to wherever he's living and working.
Collen is a bridge maker, crafting sculptures the span varying cultures and languages to sing of human experience and emotion. Honoring simplicity and directness in his life and his art, Collen's work compels viewers to dismantle all that is trivial in their lives and contemplate the vitality of the human spirit.
While Collen's permanent home is in Zimbabwe, he travels throughout Europe and the United States for art shows and gallery events. If you have a desire to learn, Collen is available to teach, offering workshops and individual sessions, in addition to completing commissions and sculpture gardens, throughout the world.
See more here: https://eldoradospringsartcenter.com/air-artists/2018/9/18/collen-nyanhongo