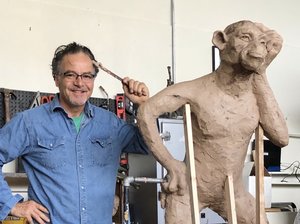 Artist Bio
Sculpture is a language. I tell a visual story weaving mythology with social observation. My work is humanistic and relatable, from whimsical and wry to provocative. The final interpretation is for the viewer to decide their own personal meaning.
40 years of unrelenting creating, from architecture to furniture have given me the foundation to build on my fine art. Inspiration, design and implementation remain constant. In addition to the senses of sight and touch I strive to include a 6th sense or emotional component, felt to my sculpture.
My work is represented in select galleries around the country and in prominent collections worldwide.
On September 13, 2018 there will be a dedication of one my sculptures to the Museo Italo Americano's permanent collection.
Artist Statement
Through my sculptures I seek to activate a deeper consciousness and conversation within ourselves beyond the incompleteness of words. My sculptures are the manifestation of an internal process, one that taps into ancient and intuitive knowledge. Be it a fistful of clay or a crucible of bronze, what is expressed is a non verbal language of who I am versus what I do.
As narratives, the sculptures may explore concepts of duality, acknowledging light and shadow. Others depict beauty and proportion found throughout nature as a higher essence of being and oneness. Some pieces probe timeless questions of humanity through contemporary interpretation of myth, metaphor and social commentary. Levity is utilized as a tonic and protest for the paradoxes of the human condition.
See all work here: https://www.gallerygiuseppe.com