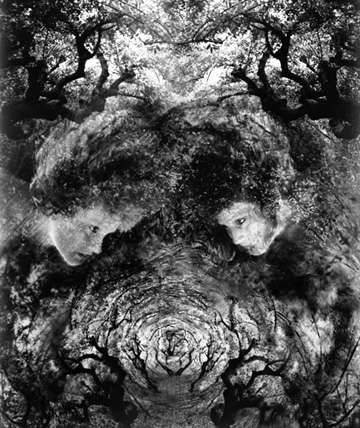 Artist Bio
Loretta Young-Gautier meticulously crafts her images, spending weeks, often incorporating as many as 10 different negatives to create a single work of art. She often integrates Western elements into her artistic vision, producing eloquent black & white photographs that transport the viewer into a surreal, yet recognizable, world.
Each photograph is produced as a limited edition of no more than 50 archival silver gelatin or pigment inkjet prints available in two sizes of 25 each. A signed, proof-size pigment print of select images is also available in an open edition.
Artist Statement
I believe being an artist is both a privilege and an opportunity for self expression. Through my photographic composites, I strive to take the viewer into my utopian vision by presenting an idyllic world that reminds us we are not only occupants, but also caretakers, of planet Earth.
The individual images that I blend into one composition are like tubes of paint applied to the canvas of the photographic substrate. After years of laboriously combining negatives in the darkroom, I discovered the digital platform, which has provided unbounded opportunities to expand my work into new artistic directions.